MQA 2021 highlights
MQA's pioneering technology captures every nuance of the original master recording, and powers the world's best-sounding music streaming services, videos, broadcasting channels and consumer devices. From industry recognition, new partnerships and music projects, through to sustainability conversation drivers, here are some of the highlights from the past year.
TIDAL continues to deliver the best sound with MQA technology


High fidelity streaming service TIDAL goes from strength to strength, receiving widespread acclaim for its superior audio quality, and introducing game-changing initiatives around artist compensation to challenge industry standards.
Standout reviews
For an impressive seventh year running, TIDAL retained its crown for 'Best Music Streaming Service' at the What Hi-Fi? Awards. In its 5* review, What Hi-Fi? states: "If you're looking for the best high quality streaming service, this is unquestionably it." It's a sentiment that's shared across the board, and here's a selection of exceptional reviews from 2021:
- Android Authority: "Sound quality is where TIDAL has Spotify beat."
- Forbes: "TIDAL is particularly attractive for streaming because many of its tracks are available in MQA, which is high-resolution but offers the benefit of a smaller file size."
- Louder: "MQA encoded hi-res audio streams sound sensationally good."
- PCMag (Editors' Choice): "If dazzling audio quality is what you're looking for, TIDAL is the gold medalist."
Introducing an artist-first model
Demonstrating its commitment to creating an artist-first and fan-centric business model for the music industry, TIDAL also revealed a major update to its subscription tiers. The newly enhanced HiFi Plus tier is now set to include innovative features such as direct-to-artist payments and fan-centred royalties, while still offering best-in-class sound with its MQA-powered Masters tracks.
The Montreux Years available in MQA


Montreux Jazz Festival partnered with BMG and MQA to present The Montreux Years. The artist-themed series brings together seminal performances, alongside rare and unreleased recordings, handpicked from the festival's rich archives.
Live recordings from Nina Simone and Etta James launched the series, with Hi-Fi Choice's Jake Day Williams writing: "The double-disc editions see Tony Cousins incorporating MQA as he re-masters the hell out of Nina. If you close your eyes, you'll be forgiven for thinking she's belting out 'My Baby Just Cares For Me' smack bang in the middle of your listening room."
Subsequent compilations from Marianne Faithfull and Muddy Waters scored equally positive reviews, with Audiophile Review's Mark Smotroff enthusing: "The TIDAL version sounds real nice, crisp and clean with a pleasant richness to the bass and drums in particular – I like how it treats Marianne Faithfull's naturally raspy vocals. Everything feels a bit warmer there, dare I say it, a bit more analog feeling."
Expanding partner network


MQA's network of partnerships and products continued to grow throughout 2021. Here are a few highlights:
- ASUS expanded its range of MQA-enabled headsets with the ROG Delta S Animate
- THX joined the MQA roster with the introduction of the tiny but mighty Onyx DAC/Amp
- Lyngdorf Audio announced MQA integration into its flagship TDAI-3400 amplifier
- Cambridge Audio revealed its first product with MQA technology, the DacMagic 200M
- KEF launched its highly feted LS50 Wireless II speaker system with MQA capability
- JVC Kenwood continued to integrate MQA into its automotive amplifiers with four new head units
- Music Bird, Japan's high-quality satellite digital broadcaster, partnered with MQA to deliver radio programming using 'Powered by MQA' technology.
- Satellite broadcaster WOWOW is currently beta testing a hi-res audio-visual streaming app and will run live demos with MQA-encoded audio in February next year.
MQA partner award wins


There were a record number of wins at this year's What Hi-Fi? Awards, with 10 MQA partner products honoured across multiple categories.
At the 2021 EISA Awards, Cambridge Audio scooped a brace of awards for its MQA-enabled EVO 150 and DacMagic 200M products. KEF, Rotel, Bluesound and HiFi Rose were also celebrated in the Hi-Fi category for their products with MQA technology.
MQA partners celebrated big wins at the T3 Awards. The ASUS ROG Delta S was crowned Best Gaming Headset, while Cambridge Audio's DacMagic 200M was crowned Best DAC. Elsewhere there was recognition for EarMen, iFi Audio and KEF.
THX earned a coveted CES 2022 Innovation Award for its first consumer product, the Onyx DAC/Amp, which was honoured for "allowing listeners to enjoy master quality audio the way it was meant to be enjoyed." Audioholics also voted THX's miniature accessory 'Best Portable Headphone DAC/Amp' in its annual awards round-up.
The Absolute Sound selected Luxman's D10-X SACD/CD player as a 'Product of the Year', adding to its list of accolades. And StereoNET included the following partner products in its year-end awards: Bluesound's Node N130, the iFi Audio Neo iDSD and Astell&Kern's Kann Alpha portable player.
MQA drives sustainability conversation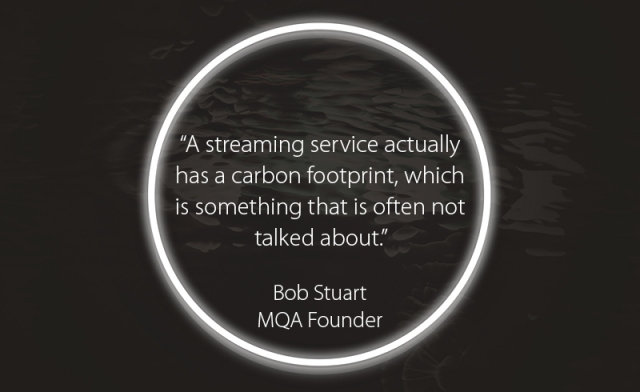 MQA has been shining a light on the topic of sustainability in the music industry. In February, MQA CEO Mike Jbara, alongside leading environmental expert Dr Allen Hershkowitz, debated the issue in a dedicated Music Ally webinar. Mike warned that sustainability measures cannot come at the expense of quality and reminded the music industry "We need to be innovating faster and creating better experiences."
Speaking at the What Hi-Fi? Virtual Show earlier this year, MQA founder Bob Stuart explained how MQA technology focuses on the musical information and gives more care to the 'information inside the data'. As a result, the file is packaged more efficiently: "It's very beneficial because it gives us a lower carbon footprint and we think that's very important. It's easy to think bandwidth is free or cheap, but somebody pays for that data…and it's got an environmental impact."
The message has spread across global markets including Japan and China. Elaborating at the Music Ally China Digital Summit, Bob highlighted the environmental impact of music streaming: "The internet is using a significant percentage of the energy of the whole planet. It's measurable, and so a streaming service actually has a carbon footprint, which is something that is often not talked about."
MQA music highlights: Best of 2021


The MQA team shares a passion for music and listening in master quality. The 'Staff Picks – Best of 2021' playlist ​features rising and established talent, and deftly spans pop, rock, classical, jazz, Afrobeat and everything in between.
Keep up-to-date with the latest MQA news and developments by signing up to the MQA newsletter here.